Scientists have warned of rising risks from natural disasters such as storm surges and typhoons, with record high sea levels reported along China's coast.
In its annual reports on the state of the nation's marine environment, the State Oceanic Administration (SOA) said on Wednesday that in 2016, the average sea level was 82mm higher than that from 1993 to 2001. Last year's figure was also 38mm above the 2015 average.
The rising sea level would aggravate the damage caused by natural disasters, which the SOA said cost 5 billion yuan (US$726 million) last year and left 60 people dead or missing.
Using the average between 1993 and 2011 as a base, the reports said the coasts of Shanghai, Zhejiang and Fujian last year recorded their highest increase in sea level, up more than 100mm over the benchmark.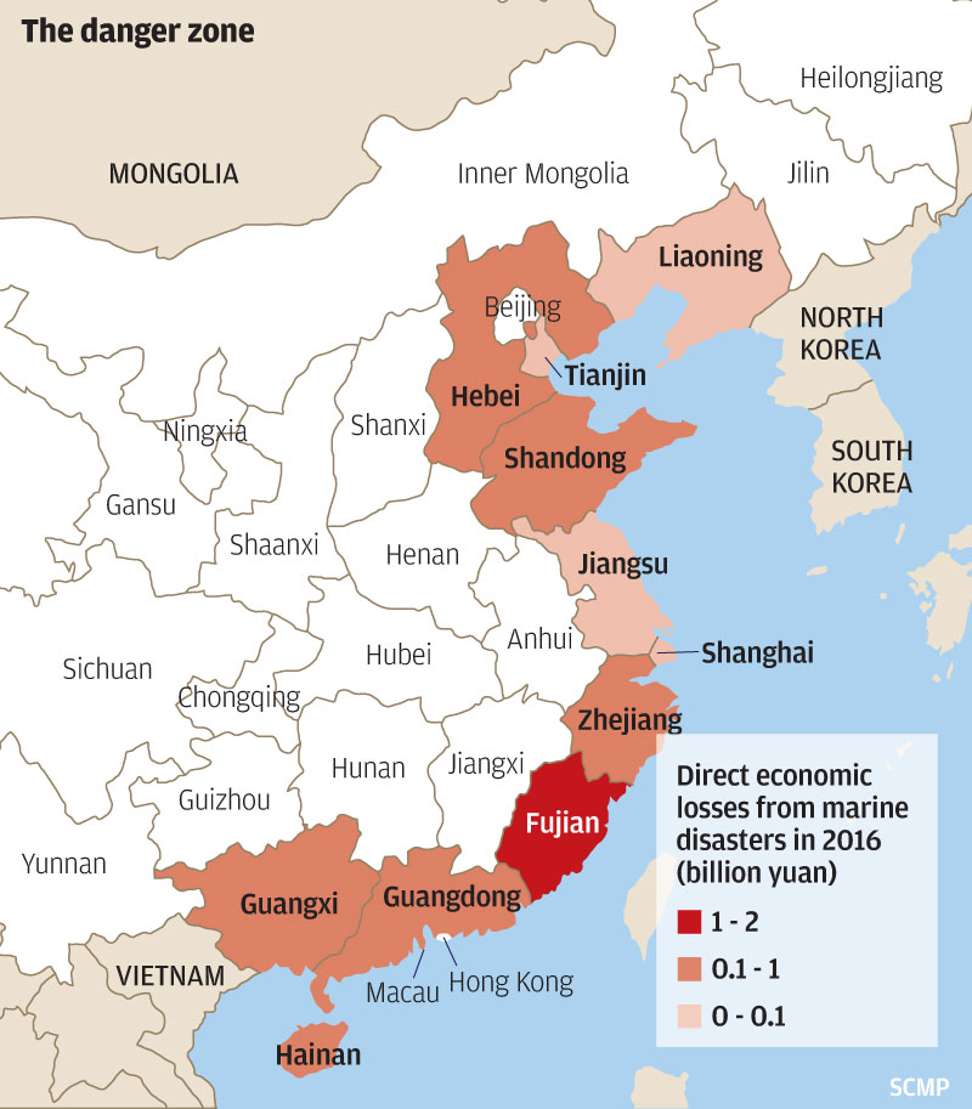 In Yancheng, Jiangsu province, the rising sea level aggravated coastal erosion, with the water line moving as much as 59 metres further inland last year, the reports said.
While in many cases climate change and El Nino and La Nina events were to blame for the rise in sea levels, subsidence was also a big factor the northern city of Tianjin. The SOA estimated the port city's sea level would rise by 80 to 180 mm in 30 years.
Rising sea levels also aggravated storm surges, erosion and salt tides in Guangdong.
The SOA said the average rise from 1980 to 2016 was 3.2mm per year. Nasa has reported a global rise of 3.2-3.6 mm per year, based on satellite observations.
"A rise of a few millimetres may seem small, but if you think about how big the ocean is, the changes make a huge difference when sea water hits land," said Professor Huang Gang of the Chinese Academy of Sciences' Institute of Atmospheric Physics.
Huang led a research project in 2015 that predicted water levels would rise by as much as 1.2 metres in the Pearl River Delta by the end of this century. This would have a catastrophic impact, such as flooding low-lying areas like Hong Kong and Macau.
"The adverse impacts could come earlier if sea levels rise faster," he said.
SOA reports in recent years have warned that the thermal expansion of seawater and glacial melting due to climate change were contributing to an accelerating rise in global sea levels.
On top of this global trend, Huang said pollution in China's coastal areas was also contributing to a rise in the water level.
The folly of Hong Kong's reclamation plans amid rising sea levels and storm surges
Last year, signatories to the Paris Agreement on climate change vowed to limit the rise in the average global temperature to below 2 degrees Celsius. China signed the deal with 191 other states and the European Union.
But Liu Zhonghui, associate professor in earth sciences at the University of Hong Kong, was not optimistic about the target.
"Past global efforts to cut greenhouse emissions have not been too successful," Liu said. "The rising trend in sea levels, the effect of global warming, will continue in the foreseeable future."
Kinling Lo